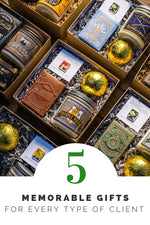 Finding the perfect gift for a client can prove to be a difficult task. How does one strike a balance between professional and personal? Should you look for a gift that is on-trend or timeless? 
Don't fret! Whether you are a tech start-up or a wedding photographer, My Weekend is Booked has just the thing. From holiday gifts to thank you gifts, our pre-curated, upscale client gifts will keep your company at the top of your client's mind year-round. 
Want to bring your client experience to the next level? We'll work with you to create one-of-a-kind client gifts that highlight your brand. 
For the Coffee Connoisseur:  
Coffee lovers can be very particular about their coffee roasts, so don't even try to guess which bean blend your client would enjoy. Opt for the Books and Coffee box; it will delight coffee enthusiasts regardless of their roast preference! 
For the Amateur Mixologist:
From crafting exotic spice blends, to selecting the perfect aged whisky, a mixologist knows that its all in the details. They'll truly appreciate the special details in this Potions Master gift box, from the luxury playing cards in an embossed case to the organic Quebec maple syrup in a wax-sealed glass bottle. 
For the Craft Beer Enthusiast:
Do you have a client who always orders the artisan local brew at restaurants? Skip the six-pack and raise the gifting bar with this Butter Brew gift box.
For the Potterhead:
Got a client who loves all things Harry Potter? They'll geek out over this Mischief and Magic gift box!
For the Wellness Lover:
Self-care is a gift that keeps on giving! The wellness lover will be delighted by this spa-in-a-box, featuring a natural soy candle scented with plant-based fragrance oils, a handmade bar of cold process soap made with lavender essential oils, an organic lavender sachet and an essential oil bath bomb.