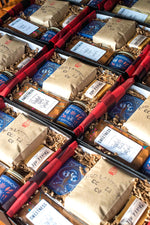 We were approached by a large tech company that was in need of holiday employee gifts. They needed a super quick turnaround just before Christmas.
Thankfully, we had several awesome local vendors in our roster, so we able to provide a lightning quick turnaround. The employee gift boxes were shipped directly to each recipient's doorstep.
They key to perfect holiday employee gifts is to focus on the recipients - in lieu of branded swag, the gifts featured a thoughtful selection of artisan made goods. For a subtly festive theme, we included a selection of handcrafted goodies from Canadian small businesses and a bright holiday wrapping.
Each employee gift box included Red Lantern coffee beans, a chocolate bar from Sweetness Chocolates, luxury playing cards from Theory11, Spiced Ale soap from My Weekend is Booked and a Cardamom & Saffron candle from My Weekend is Booked.

Employee gifts are a timeless way to show appreciation, and promote employee loyalty and retention.
Want to level up your employee gift game? Whether you're looking for onboarding gift ideas or holiday employee gifts, we're happy to help. Send us a note at info@myweekendisbooked.com to get started.