UNLEASH THE POWER OF THE PRESENT
Your brand is thoughtful, creative, vibrant and elegant- and your gifts should reflect that.
From milestone and holiday gifts for employees, to oh-so memorable welcome and thank you gifts for clients, we'd love to work with you to create gifts that highlight your brand, and dazzle the recipient(s). In other words, wave goodbye to cookie-cutter branded swag and cellophane-wrapped fruit baskets. Your gifting game is about to level up.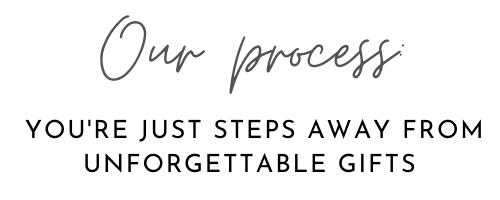 Our team works with you to create gift boxes that suit your style, occasion and budget. Select a gift design from our pre-curated collection, or work with us to create a custom box design. Both pre-curated and custom gift boxes can be branded. Options include branded box closures, notecards and branded items inside the gift boxes.

Once we have your gift design finalized, we send over a proposal with all of the project details, including pricing, estimated fulfillment timeline and shipping options. We begin ordering product and branding materials once payment is received.

Sourcing product, assembling boxes, shipping gifts- we take care of every aspect of gifting. Gifts can be shipped all together you, or directly to each recipient.
Let's get gifting.

We're so excited to hear about your project, and can't wait to bring it to life!
---
Pro ei falli molestie, per ex dicam option epicuri, deserunt necessitatibus ius et. Erat etiam duo id, sea fugit malorum posidonium an, an mel voluptua consetetur cotidieque
---
Ad esse blandit periculis per. Eos at prima voluptua fabellas, his eruditi gloriatur definitiones cu
---
Vix oporteat gubergren ne, dicam altera argumentum mei no, an ius verear offendit tacimates. Sed eu sumo labitur verterem, quod feugait euripidis ex sit
---
Ad esse blandit periculis per. Eos at prima voluptua fabellas, his eruditi gloriatur definitiones cu
---
Vix oporteat gubergren ne, dicam altera argumentum mei no, an ius verear offendit tacimates. Sed eu sumo labitur verterem, quod feugait euripidis ex sit